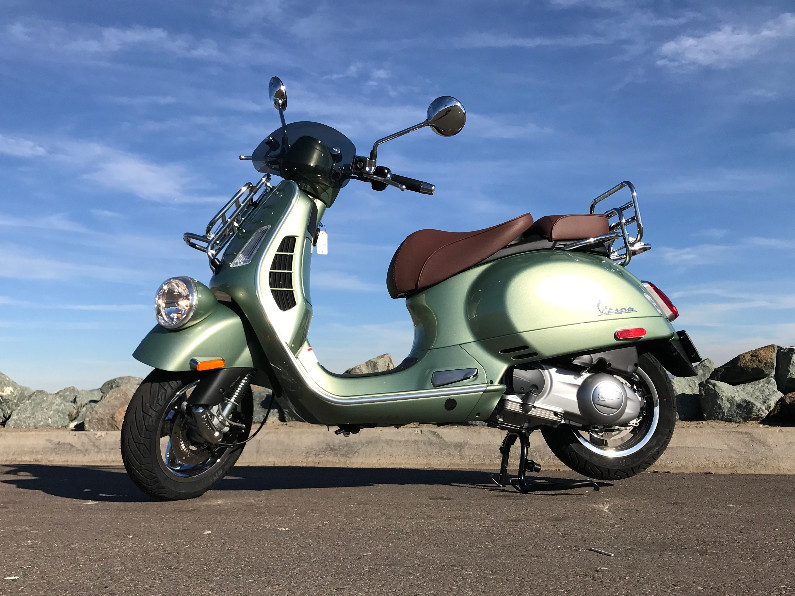 The ALL new Vespa GTV 300 ABS/ASR merges inspired Italian design with the power and form of the GTS 300. The low seat height and plush twin seat combine to make this gorgeous design a true Vespa icon. In addition, with a robust GTS 300 motor, this eye-catching Vespa model offers limitless possibilities.
This special GTV model scooters comes in a limited edition colors that is only available in the USA will not be seen again, insuring your GTV will be a special model and highly recognizable.
Here's a short list of just some of the upgrades to the New Vespa GTV 300 ABS:
ABS braking system on both front and rear wheels.
ASR (Anti Slip Regulation). It uses the ABS electronics and sensors to compare the wheel speed rotation of the two wheels to keep you from slipping. Very hi-tech!
New style fork, with less dive during front braking and a much nicer ride overall.
Larger under seat storage to fit bigger helmets and more cargo.
Restyled seats, more comfortable and stylish.
USB phone charging port inside the glove box.  Uses the standard USB cable that's included with any phone, GPS or digital camera.
New horn cover with aggressive chrome grill design.
Battery cover center mat with "Vespa" embossed on it.
Restyled  tail light with new chrome trim.
New fuel injection ECU system.
2017 models Available in Portofino Green
MSRP: $7,599*
*Note: MSRP does not reflect destination or other dealer vehicle preparation charges. Wondering about destination and dealer prep charges, please call us.