0% FINANCING AND 3 YEAR WARRANTY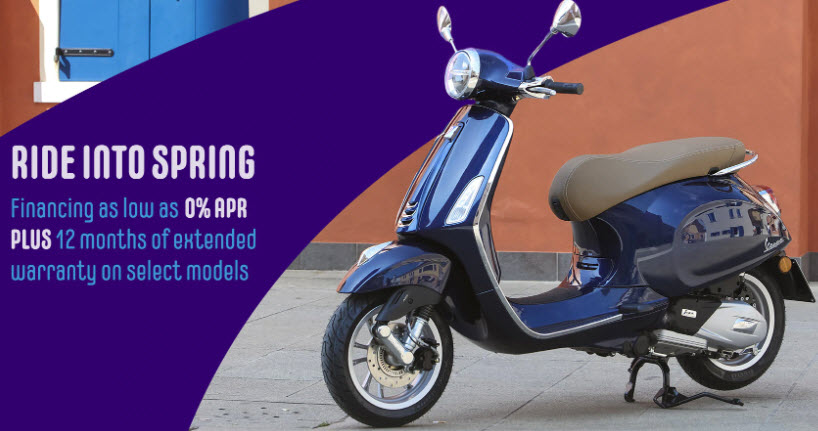 0% FINANCING AND 3 YEAR WARRANTY
A NEW VESPA IS THE PERFECT WAY TO RUN ALL YOUR ESSENTIAL ERRANDS!
Until May 31st take advantage of these once in a lifetime financing offers starting at ZERO DOWN AND 0% FOR 36 MONTHS or 3.99% for 60 months on select Model year 2018-2019 models. This promotion is good until April 30th so email us today to make an appointment, all scooter sales are by appointment ONLY!
Reduced Rate Financing:
Fill out an online credit application from Sheffield Financial and come in to Vespa Motorsport already pre-approved and be ready to drive off on your sweet new scooter!
0% QUALIFYING 2018-2019 VESPA MODELS 
Primavera 150
Sprint 150
GTS 300 Super (only one 2019 in stock)
Vespa 946 RED (only one 2018 in stock)
All 2020 model years:
1.99% APR for 36 months(3)
Ride your dream Vespa home with ZERO down and no need to worry about your first payment for 30 days.
Trade-ins are always welcome!  We are paying CA$H or giving top trade-in values for your clean used scooter… or motorcycle!  There has never been a better time to get out of your old scooter and into a new Vespa and with 1.99% financing and top dollar for your trade-in… only at Vespa Motorsport! Give us an email.