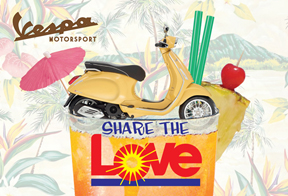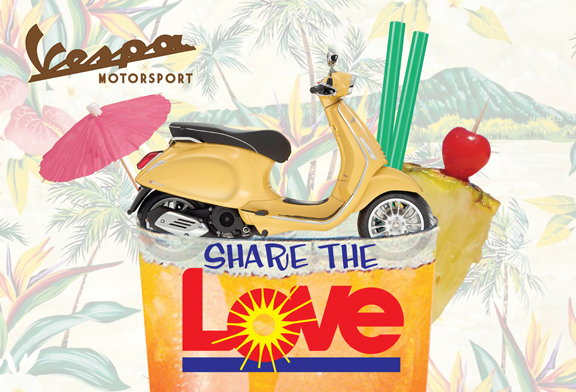 We would like to believe we have a unique business that sells "Fun", not just boring transportation. We all own scooters here, we love to ride them, sell them, and share them with our friends.  We know our customers love their scooters too that's why we invented the "Share The Love" program. If you love your scoot so much you want to share that love with the world, we want to help you do that.  So here's how it works…
Current customers: Get a stack of our "Share The Love" postcards (we have loads of them here at the shop if you need any), fill in your name, and hand it off to as many people as you can find; friends, family, enemies, neighbors, space aliens, or anyone you can think of who would love to share your scooter life style.  When they buy a new scooter you get a prize package including a "Golden Ticket" which is worth a $50 credit* at Vespa Motorsport.
New Customer: You will need to bring in one of our magical "Share The Love" postcards with a current customer's name scribbled on it, then… Alakazam! You get a whopping $100* off your new scooter and a free helmet valued up to $79.95, that's a total of $179.95 off*.
*Conditions apply: No cash value on the "Golden Ticket", but it is good for towards $50 on anything at Vespa Motorsport.   "Share The Love" Offer only valid on a new scooter purchase. Cannot be combined with other offers.