2017 MOTO GUZZI V7 III 400+ Miles – PRISTINE MINT CONDISH! $6,299.00
All of us at Vespa Motorsport have always had an affinity for our Italian cousins at Moto Guzzi.  Arguably the most iconic brand to endure with it's iconic stance and profile, the Guzzi is an internationally recognized motorcycle.
The V7 III you see here was traded in and is in pristine condition.  We have just performed the first break in oil change and service.   We have it priced at a very fair $6,299**
No dealer fees, no set-up fees, no registration fee and so shipping fees.  Buy this like new Moto Guzzi and save $1,000.00s off the dealer "sale" price!
The V7 has been going strong for over 50 years, and for 2017 Moto Guzzi really stepped things up, making the V7 III THE BEST V7 to own and ride.
Here is a brief highlight of what the new platform features…
1. The 2017 Moto Guzzi V7 III is sporting a new engine. While it retains the air-cooled, two-valve, pushrod, longitudinal-crankshaft design and the 80 x 74mm bore and stroke, the V7 III is still new. Up top, the cylinders, heads and pistons are new. Down below, the crankcase has been updated and there's a new oil sump, crankshaft and venting system.
2. There's more power in the 2017 V7 III engine. Maximum horsepower is now 52 horses at 6200 rpm, with torque topping out at 44 ft/lbs at just 4900 rpm. According to Moto Guzzi, the torque curve remains essentially flat.
 3. The chassis has been redesigned. The V7 III retains a steel frame with a lightweight front end (54 percent of the weight rests on the rear wheel), and there's new steering geometry that Moto Guzzi "guarantees a more dynamic ride in corners, better handling and stability." Also, the seat is lower (just over 30 inches above the pavement), and the footpegs have been lowered and moved forward.
4. Electronics come to the 2017 Moto Guzzi V7. The III gets three-position traction control, plus two-channel ABS.
 5. A sophisticated Moto Guzzi smartphone app is an option. Now, you can add the Moto Guzzi media platform, which allows your smartphone to display speed, rpm, horsepower output, torque output, instant and average fuel consumption, average speed, battery voltage, longitudinal acceleration, and extended trip computer. However, you can only view five parameters at a time. Turn on Eco Ride, and the Moto Guzzi V7 III will help you save fuel while you ride.
Get in here today and give it a test ride!
CLICK ON THE PICS BELOW FOR LARGER HIGH RES PHOTOS…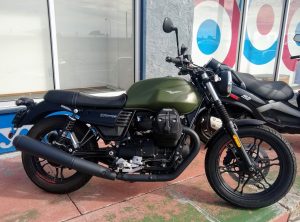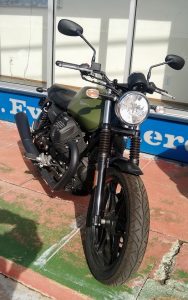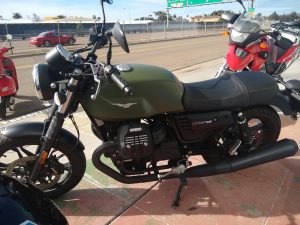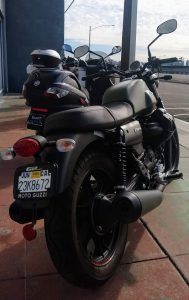 **TOTAL OUT THE DOOR PRICE WITH TAX AND TITLE TRANSFER IS $6,905.00