2017 Moto Guzzi V7 III Stone – Only 20 Miles – LIKE NEW! $6,899.00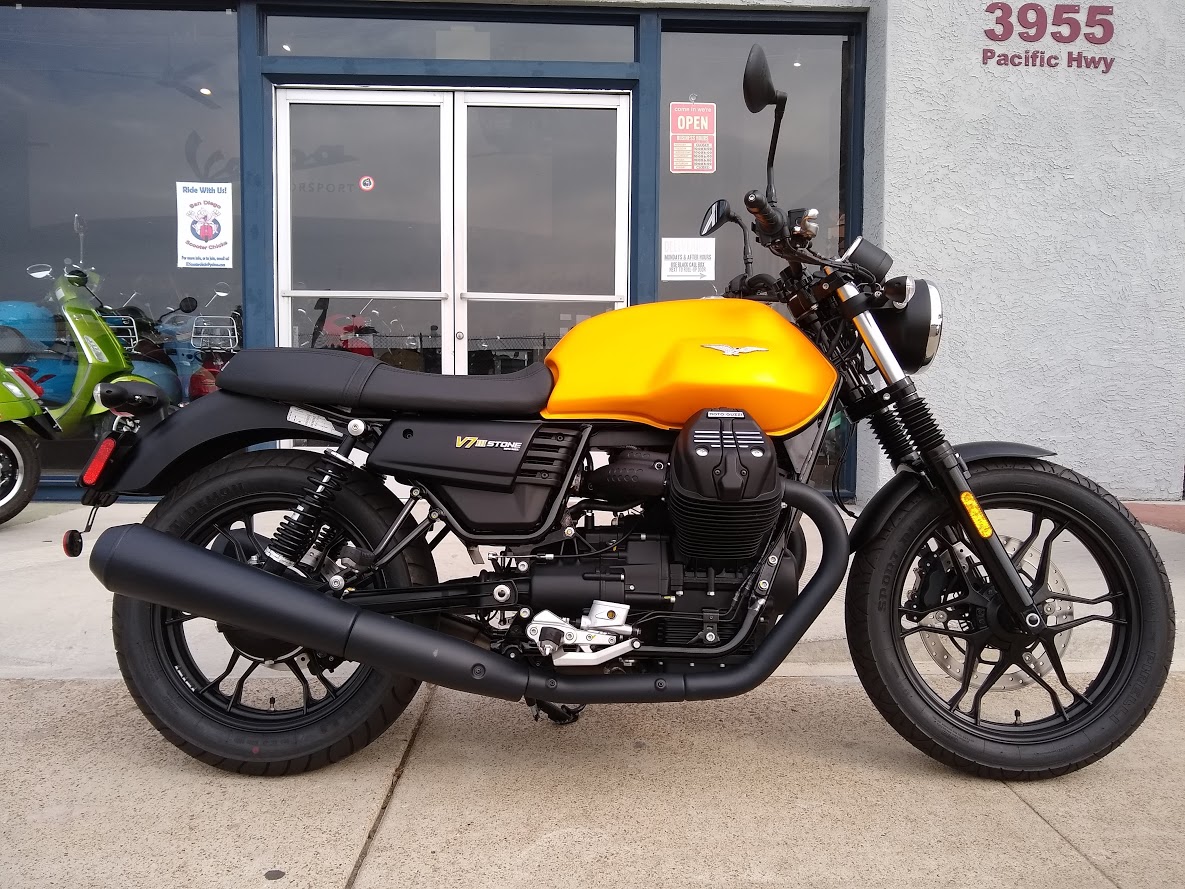 Here is your chance to step up and stand out from the rest of the crowd.  This like new V7 III Stone sports a new frame that has been "revamped and reinforced," and features new geometry that "guarantees more dynamic cornering," and the 90-degree, two-valve pushrod V-twin features new aluminum hemi heads, pistons and cylinders, along with a host of other internal and external updates.  The result is an advance bike that is a quintessential blend of vintage-cool fun and modern convenience. The speedometer is emphatically classic at first glance, but also offers an easy to read digital display that's managed easily by a single button on the left control. This display conveys information like fuel economy, gear selection, trip meter, as well as redline indicator and traction control settings. As with any proper Italian motorcycle, Brembo supplies the brakes, the single front disc offering good bite and a nice progressive feel, with enough power to facilitate hustling the bike through your favorite string of curves.  The bike's dual-channel ABS is effective and straightforward, with none of the quirks experienced on other bikes.
With this third iteration of its V7 line, Moto Guzzi has assembled a versatile set of modern classic options, the V7 III Stone, with its MSRP price tag of $7,999.00, offers an easy entry into the world of looks-cool-but-actually-starts-reliably. Guzzi also offers a catalog of bits and bobs to equip the Stone for almost any purpose this side of serious off-road or heavy touring. This is a motorcycle that doesn't compromise on style or character, with a lineage that makes the word authenticity actually applicable in a literal, correct sense.
This bike is almost brand new (20 miles) and is priced at $6895.00, with NO set up fees and NO dealer destination charges.  Out the door price on this beauty with sales tax and Title fees is $7739.00
BIKE COMES WITH A FULL TWO YEAR WARRANTY
$$$ FINANCING THROUGH SHEFFIELD FINANCIAL IS ALSO AVAILABLE ON THIS BIKE $$$