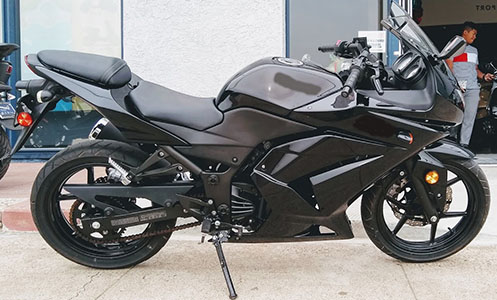 For those about to enjoy their first taste of two-wheeled freedom, the Kawasaki Ninja 250 sportbike has always been a great option to start. It doesn't come with off-the-wall features, but it does have enough of an 'oomph' that novice riders – and veterans, for that matter – can enjoy.  Kawasaki has established a reputation in the business as one of the best bike designers in the world and the aesthetic profile of the Ninja 250 only adds to the company's already glowing reputation. The sharp styling of the bike makes it look like a supersport, while its compact engine and superior handling offers a perfect blend of power and stability that all riders can fully enjoy.
The Kawasaki Ninja 250 comes with a natural riding position and comfortable ergonomics with a low seat height that translates into hours of fun for both novices and veterans. The bike also has a fairing and windscreen that not only looks great, but also delivers wind protection for a wide range of riding situations. There's also an easy-to-read instrument panel with fuel gauge and neutral indicator that makes it convenient for riders of all shapes and sizes.
This little bike has a low 5,329 miles on it, and runs like a bat outta hell!  Winds up to a 12,000 rpm red line with it's 6-Speed transmission and handles like it's on rails.
Asking Price:  $2,795.00
Comes with 30 Day Warranty