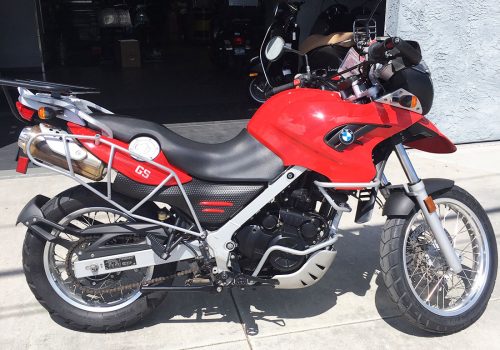 Here is a high grade and gently used BMW 650GS with ABS braking, that was formerly owned by Kevin Stram!  He had his fun with it for about four years, and has decided it's time to move this one on to a new rider that will love and appreciate it, as he has.  Extremely well cared for, regularly detailed, all factory services performed on time and per manufacture specs.  Currently has a little over 25,000 miles on the 798cc engine, and rides like a new bike.  If you've been thinking about a fun adventure bike, this is a great opportunity to get in on a great bike, at an even greater
Needs nothing, ready to RIDE.
Includes These bonus features:
Heated Grips
Custom Foot Pegs
Crash Bars
Rear Rack
Custom Racks (for soft bags)
New Fork Bearings
Complete 25,000 service is DONE
Good Tires
All this for one loooow price!
was $4,895.00
NOW $3,995
Come on in with your M1 license, and we'll be happy to let you take it for a test ride.
CLICK ON EACH PIC FOR A LARGER HIGH RES PHOTO!