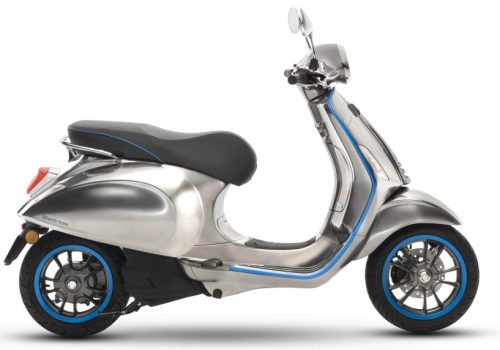 We have one Elettrica in stock NOW (May 13th 2019) and are taking pre-orders for more.
Mobility in general, and electric mobility in particular, will never be the same again.
The Vespa Elettrica is a contemporary icon of Italian technology in the world, a synonym for advanced connectivity and silence, personalisation and accessibility, respect for the environment and style. These values have always characterized the Vespa and are fully implemented again today in the Vespa Elettrica, confirming Vespa as a pioneering brand on its market.
With a power unit delivering top power of 4 kW, the Vespa Elettrica, assisted by the dynamic performance typical of electric engines, outshines a traditional 50cc scooter, particularly in regards to acceleration and hill starts.
It guarantees easy, agile and enjoyable riding on city roads, even at the very low speeds of congested urban traffic, with the added benefits of absolute silence and absence of vibrations, helping to make cities less chaotic and more livable by avoiding both air and acoustic pollution.
The Vespa Elettrica has a maximum range of 65 miles, a value that changes little between urban and extra-urban environments thanks to the scooter's modern lithium ion battery and efficient kinetic energy recovery system, which recharges the battery during deceleration. To recharge the battery the rider simply plugs the cable located in the compartment below the saddle into a normal electric wall socket or into one of the recharging points that are becoming a common sight in today's cities. A complete recharge normally takes 4 hours.
We have ONE in stock NOW and it will be sold on a first come, first serve basis.  MSRP is $7,499.00 (plus taxes and dealer fees)
CLICK ON EACH PHOTO FOR LARGER HIGH RES VERSIONS…