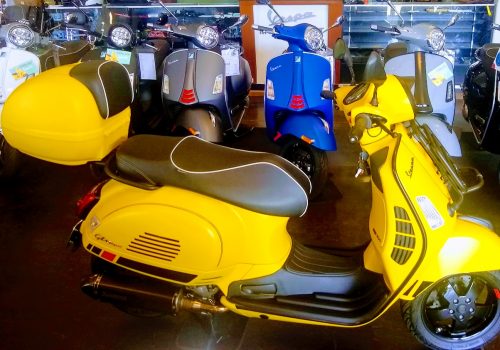 Here we have… a UNICORN!  A 2018 Limited Edition Matte Yellow 300 SuperSport, decked out in… EVERYTHING!  It not only shows as brand new… literally like brand new, it has had a complete "Blackout" application eliminating every piece of brightwork.  We ditched the 35 pound stock exhaust, installing a high performance light weight Akropovic exhaust system, heated hand grips, high performance Malossi disc brake pads, high performance roller weights for quicker acceleration, full LED lighting upgrade, factory rear topcase, rear rack and front folding rack, along with tons of small details that add up to an amazing package.  The final touch was added by San Diego's very own Manny Cisnero, world renowned pinstripe artist, who applied a one of a kind pinstripe job that makes this VESPA truly a one off design and conceptual marvel!
The bike is just barely broken in, and runs like a bat outta hell.  This bike was owned by a close friend of the shop, and she paid well OVER $13,000.00 for it, brand new 1.5 years ago.
BIKE IS IMMACULATE MINT CONDITION.
Registration is current.
Factory warranty remains through April of 2020.
Price:  $7,499.00
Call TC or Alex at (619) 280-1718 extension 104.
CLICK ON EACH IMAGE BELOW, TO VIEW ARE A LARGE HIGH RESOLUTION PICTURE…