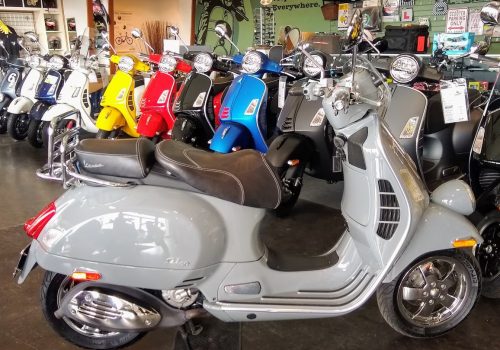 Vespa, the iconic Italian scooter maker, celebrated its 60th anniversary back in 2007.  The GT 60 was designed as a collector's item: Only 999 were made, and of those, only 250 were exported to the U.S.. Original owners received a 60th-anniversary leather case that held a leather document wallet and key fob; GT60 Vespa cover; and a hardcover book on the history of Vespa. The scooter came in exactly one color: Vespa's 1947 prototype gray, with Vespa's beautiful Italian high gloss finish.
 In homage to the company's original scooter, the round headlamp is mounted on the fender. The round instrument panel, set squarely in the center the dash, is easy to read and boasts a clock, fuel gauge, speedometer, odometer, and temperature warning light. The standard side panels are curvaceous, irresistibly reminding a viewer of Italy's luscious postwar actresses.
Mechanically, the GT60 features the Quasar engine, which stands for Quarter-liter Smooth Augmented Range, that Vespa introduced along with the GT series in 2006. The 244cc, liquid-cooled, single-cylinder engine was, at heat time, the largest Vespa sold in the U.S..
Like all Vespas since 1947, the GTS 250 has a steel frame monocoque chassis, making it a heavy 322 pounds. The suspension system is correspondingly heavy duty (for a scooter): It has a single front arm with adjustable rebound damping, so it can be tailored to a rider's weight (or the payload weight) and dual rear shocks—a steel twin-sided swing arm and an adjustable spring pre-load. The brakes, 8.7-inch discs front and back, are up to the task of stopping the scooter efficiently.
The scooter has a top speed of about 75 mph, and gets 65 miles per gallon. The gas tank holds 2.4 gallons. With 21.7 horsepower and 14.9 lb-ft of torque, the GT 60 will go from zero to 31 mph in 3.9 seconds and reach 50 mph in 4.2 seconds. It will leave other vehicles sitting at a stoplight once the light turns green, and it's more than up to cruising on the freeway.
This particular GT60 has under 10,000 miles on the odometer, and has spent most of it's life in a heated garage nestled inside Del Mar.   It is in excellent condition, and comes with all the goodies it was originally issued with, making this a rare Vespa, indeed.
PRICE:  $6,495.00
This Vespa comes from a close friend of the shop, from her personal collection, and will come with a full 30 day warranty.
Our own resident "Robot" did a cool little review that can be seen here:
 Click on any of the thumbnails below, for larger high res pics…