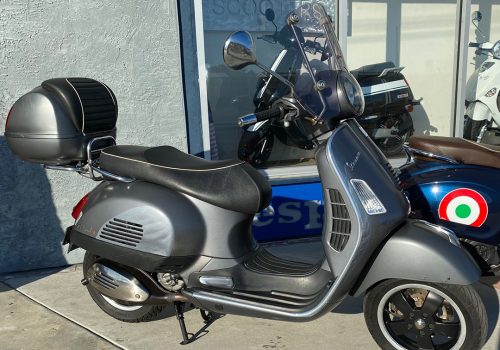 If you follow our used scoots, you know it's rare we get a cheap GTS, well here's your chance to pick up a good daily driver GTS for around $3,500 with tax and fees.
We just bought this GTS from a long time customer with a blown motor, as the owner already had another GTV he didn't want to pay to fix this one, so we did.  Comes with a fully rebuilt motor, Top End, Crank, Muffler, and more.
This vehicle has had good care, regular maintenance, but doesn't look that pretty.  Has had a lot of upgrades, Top Case with LED turn signal/brake light upgrade, windshield, floor mat, regular service intervals, nice tires, and more.
May not look like much, but it has it where it counts.
The 2012 GTS includes 300cc liquid cooled, fuel injected power plant. This makes for a great city commuter with top speeds of 80 MPH+ and up to 65 MPG.
Comes with current registration and clean title.
All this for only $2,995, plus fees and tax