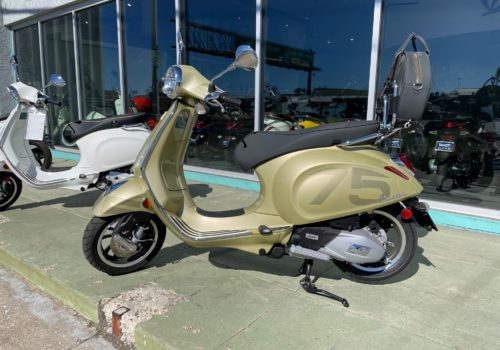 BRAND NEW 2021 VESPA PRIMAVERA 75TH EDITION
New "scratched and dented" (SEE PICTURES) special deal, $650 off for a low base price of $5,199 (plus tax and dealer fees)
The singularly most amazing and stand-out Vespa ever released. The 75th Anniversary, Limited Edition, Primavera 150!
Vespa is only making one run of these for 2021 ONLY (the 1st Vespa was 1946).
Vespa's 75th Anniversary is a celebration of all the cultural and stylistic milestones of the brand going back to 1946. These milestones have been embodied in its DNA, which reflects the storied heritage and unique qualities that continues to make Vespa special and relevant today. The Vespa Primavera 75th Anniversary edition pays tribute to the brand's identity while simultaneously probing into the future of mobility through timeless, iconic, and smart design.
In addition to not showing its age, the Vespa 75th Special Edition proudly flaunts a symbolic number: 75. As an elegant accompaniment to the distinct glossy metallic Giallo Gold 75th color scheme, the Vespa 75th features a matte metallic pyrite gold graphic on the side cowls and the front fender, which matches the color of the corresponding "Horn Cover." This updated interpretation of a
1946-era color scheme is accompanied by a celebratory plaque to ensure that this very important date will not be forgotten.
In addition to all this, to mark the exclusivity of this special celebratory series, each Vespa Primavera 150 75th comes with a "Welcome Kit" including:
An elegant Italian jacquard-silk scarf with handsewn hems,
Vintage steel Vespa plate,
A personal Owner's Book
Set of eight EXCLUSIVE collector postcards with images from the eight decades of the Vespa story.
Specifications
Engine: 3-valve 4-stroke single cylinder i-Get catalysed
Displacement: 155cc
Bore x stroke: 58 mm x 58.6 mm
Max Power at the crank shaft: 9.5 kW – 12.9 HP – at 7,750 rpm
Max Torque: 12.8 Nm at 6,500 rpm
Consumption: 40.3 km/l
CO2 emissions compliance: 65 g/km
Fuel system: Electronic Injection
Cooling: Forced air
Starter: Electric
Gearbox: CVT automatic with torque server
Clutch: Automatic dry centrifugal with shock absorbers
Load-bearing structure: Sheet steel shell with welded structural reinforcements
Front suspension: Single arm with helical spring and single hydraulic shock absorber
Rear suspension: Helical spring with preload adjustable (4 positions) and single hydraulic shock absorber
Front brake: Stainless steel Ø 200 mm disc with hydraulic control
Rear brake: Ø 140 mm drum with mechanical control
ABS Braking system: ABS at the front wheel only
Front tyre: Tubeless 110/70 – 12″
Rear tyre: Tubeless 120/70 – 12″
Length/Width/Wheelbase: 1,870 / 735 / 1,340 mm
Seat Height: 790 mm
Fuel tank capacity: 8 L
Emissions compliance: Euro 4
TOP SPEED 65MPH
100 MPG
2 year Warranty!!