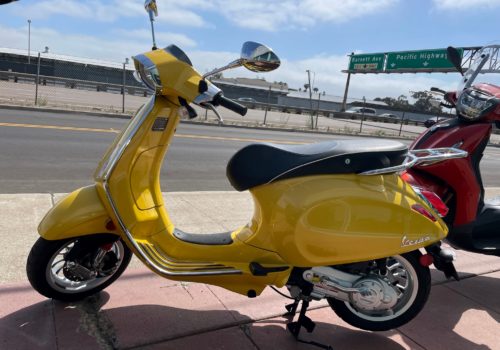 OKAY… HERE IS A RARE NUGGET FOR YOU USED SCOOTER HUNTERS!
A 2015 SPRINT 50cc IN PRISTINE CONDITION
ONLY 2,660 MILES!!
I've been on the hunt for some minty fresh used Vespas, and I just reeled this one IN! This beauty sports an automatic CVT transmission, factory 4-Valve performance cylinder head, auto start, 12″ wheels for a slightly lowered stance, 59 point mechanical check with fresh oil and fluids, good for another 3000 miles.
This is only a 50cc so top speed is right around 40mph.
30 Day Warranty!!
Come Get You Some of This!!
Come see it today! And if you'd like to test ride it, we can arrange if you have a motorcycle license. Save BIG $$ NOW!