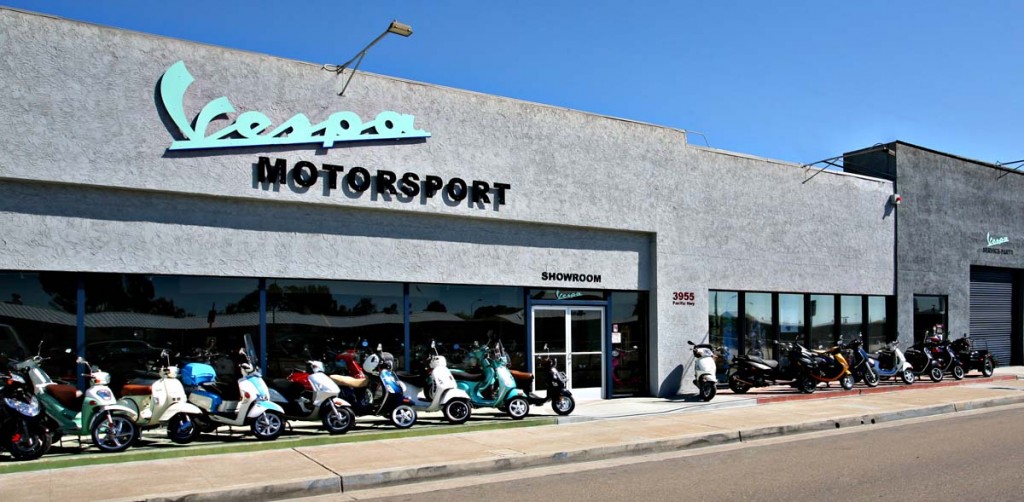 Located near Lindbergh Field in the heart of San Diego, Vespa Motorsport is the product of over 30 years of scooter fan-dom. Started in 1992 in the neighborhood of Normal Heights, the shop was originally a service center and parts supplier for vintage Vespas.  Back in the '90s, Vespas and many of the other makes of scooters currently available at Vespa Motorsport were not being imported to the United States.  The passion for scooters has never wavered and with the arrival of the modern Vespas and other quality brands of scooters starting in 2000, Vespa Motorsport has been converting San Diegans on a yearly basis.  No other shop in North America has been in the scooter business longer than Vespa Motorsport.
Ultimately, after a few moves and 18 years of scooter service and sales, we arrived at our current location in January of 2010, a 12,000-square-foot, state-of-the-art homage to scootering at 3955 Pacific Hwy.
Vespa Motorsport now offers the largest selection of new and used scooters on the west coast of the United States and we are regularly among the top dealers in the country. We want to be advocates for our customers, and believe that while owning a scooter is a lot of fun, the process of buying one should be painless and easy.  The same simple philosophy is true for the way our award-winning technicians run what has been called by Piaggio USA "as the greatest service center in North America."
We also really love the scooters we sell, which makes us great advocates for them.   Of course, if you think we like the scooters we sell, you should meet our customers.
Visit our showroom and get a feel for scootering, the most practical, economical, and fun way to get around San Diego.
History
Before there ever was a Vespa Motorsport, there was a guy named Alex who spent all of his spare time from 1986 on fixing and rebuilding scooters in his mom's garage. At the time, he started ordering and selling parts that were commonly requested, cables, cable housings, light-bulbs, etc., and then he bought out the old Riva/Vespa at the beach's inventory and a few other small inventories after which he had a massive pile of parts overfilling his mom's garage. Parts were everywhere: front yard, rear yard, side yard, bedrooms (you get the idea, he had a S$%Tload of parts). San Diego scooterists soon found out about him and then he had a business on his hands, so a real shop location needed to be found.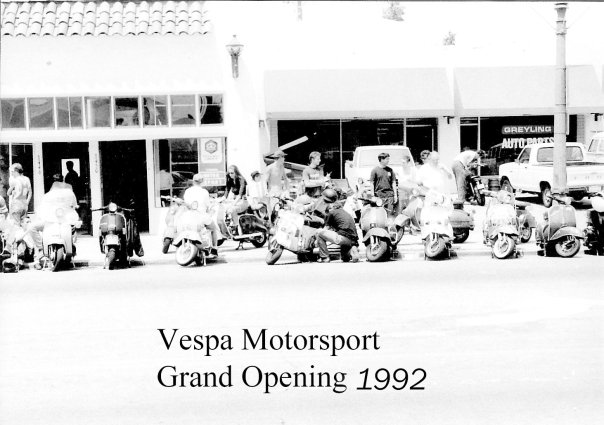 Shortly thereafter, the first shop, Vespa Motorsport, opened up at 3450 Adams avenue in 1992 and quickly attracted a following here in San Diego. Back then all of the scooterists in San Diego knew each other and most of them could be divided up into two categories: Mods or Racers, a division that is still somewhat true today. Mods tended to be the scooterists who wanted to either chrome-out their rides and racers wanted to cut them down and race them out. Alex was the rare breed of scooterist who was into both, so even in the early days he sponsored race bikes for the A.S.R.A. (American Scooter Racing Association) and he also owned a decked-out P200E too (which he still owns today with over 100,000 miles on it). Seeing a need, his shop started catering to all scooterists and joined in on many scooter rallies around the west coast up to Seattle and out as far east as Colorado.
Eventually the shop moved in with the world famous Fabio at Vespa Supershop Inc., 2525 University Ave, and then an 8 year stint at 4225 30th Street (El Cajon Blvd and 30th Street) in the beautiful neighborhood of North Park – the same neighborhood the shop had been in for the previous 16 years – but all good things must come to an end.  All those years of buying scooter parts, plus taking on the Vespa and Piaggio lines, caused us to outgrow our shop.  We found a Fortress of Scootertude, a 12,000 square foot behemoth on the frontage road off of Pacific Highway.  Our new (and hopefully forever) address is 3955 Pacific Highway, San Diego, CA 92110.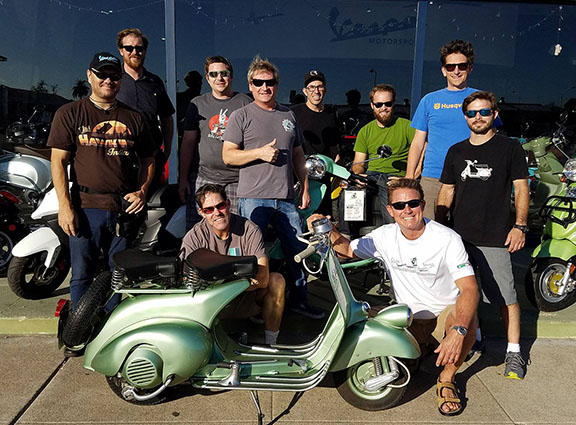 In that entire time, Alex and his crew have maintained their interests in scootering, seeing them on the road and seeing their riders happy. It's been a long ride so far, and there's more to come, but that's the best part. We are a shop owned by scooterists for scooterists. We sell what we ride and ride what we sell. We believe in the scooterist's lifestyle; a fun, exciting lifestyle enjoyed by millions the world over. So buy a ticket and take a ride on the wild side, you're guaranteed to have the time of your life.