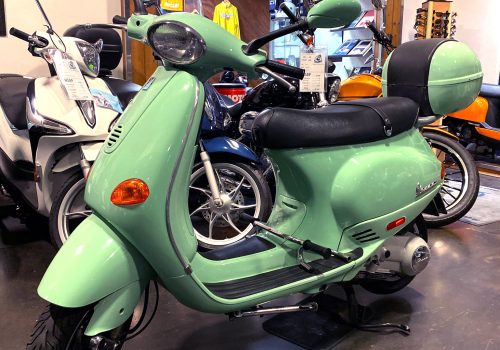 A Classic Sea Foam Green Vespa ET4 150 just traded in to our shop. Owner had it since new (First year for USA), and put 23,447 miles on it. The mileage is exact, and all services have been performed.
It's ready to go on any adventures. Rare green paint with a 183cc upgraded motor. Yes…183cc, this started as a 150cc, but has a Malossi High Performance cylinder/piston kit and British PM tuning exhaust! Yes it is FAST and LOUD!
Goes without saying that this scooter is FASTER THAN YOU THINK!
This is the Unicorn of used scooters everybody dreams of finding. Rare color and FAST! We have it… now make it yours!. Buy it now, before it's gone… forever!
MODESTLY PRICED AT $2,695.00
CALL TC OR ALEX FOR MORE DETAILS!
Click on each photo for large high res pics!