Why Buy a Scooter?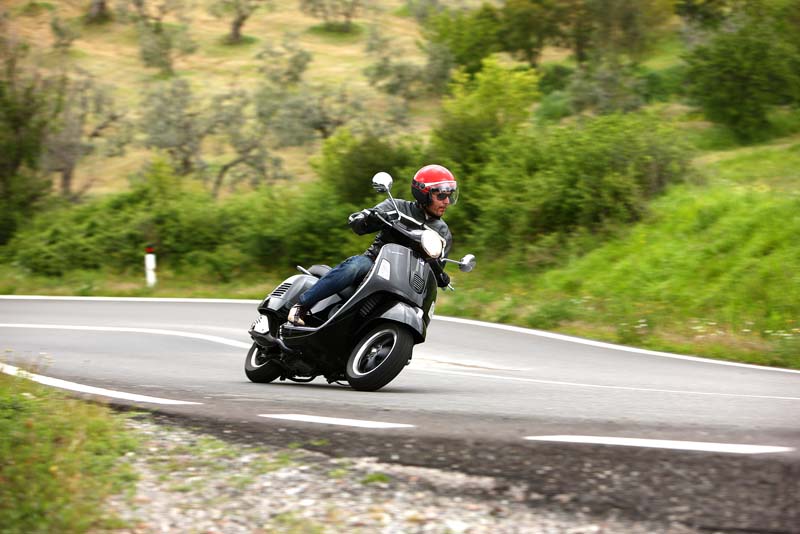 Why buy a scooter? Consider the following:
1) They get amazing gas mileage. A champion performer like the Vespa LX150, for example, will get around 65 MPG. The Buddy 125 gets 90 MPG! Even freeway class scooters, such as the Vespa GTS300, get 60 MPG!
2) They are Sooo easy to drive. All the new scooters we carry are automatic with step through frames.  Our Scooters are engineered to be comfortable and easy to drive, this is the whole premise behind the "scooter" design. Bringing transportation to the people.
3) They're inexpensive. Compared to a car, the Vespa Primavera with it's low MSRP  is a fraction of what a new Honda or Toyota would cost. Combined with the gas mileage (as well as maintenance and insurance costs) owning a scooter is also a lot less expensive than owning a car.
4) Two-Up Riding. Most scooters are equipped to handle two riders.  So bring your friend, your wife, your partner, your husband, your boyfriend, your girlfriend… or even your favorite four legged pet!  Riding together is twice the fun!

5) They're free to park (or nearly free). More cities are accommodating the increase in motorcycles and scooters on the road. In San Francisco, new motorcycle-only parking meters are sprouting up in downtown areas and they only cost around $3/day, compared to $30/day for a car. Many parking lots offer free parking for bikes and we have even heard that meter maids will sometimes turn a blind eye to illegally parked scooters! As a result, you can usually park very close to your destination. Scooters also fit nicely between cars—just leave enough room to get out.
6) They're cheap to insure and maintain. Most personal scooter insurance rates are under $200.00 a year for full coverage.  Rates will obviously vary depending on your personal circumstances, but it's definitely cheaper to insure a scooter than a car or motorcycle.
7) Scooters look cool. The Italian scooters—Vespa and Piaggio—lead the pack every year with their elegant design while models like the Buddy and Stella are not far behind. Fans of Quadrophenia will especially dig Vespa Sprint model with its Euro square headlight and chrome trim. If you're searching for a more modern look, the Piaggio BV350 has a nice, aggressive stance with tons of power, comfort and cutting edge style.
8) They're really fun! Perhaps the best reason to ride a scooter is due to the universal 'Fun Factor' these incredible machines provide.  Young or old, guy or girl, all agree that riding a scooter is the most fun to be had in two wheeled personal transportation! Test-ride one today and you'll agree: owning a scooter is a blast.
9) And a million more. there's just not enough room on the internet to write all the reason to own a scooter.