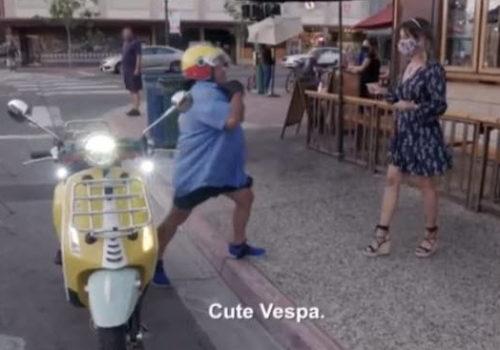 So our close friend, Big Ed from 90 Day Fiancée international fame, has decided to sell one of his beloved Vespas.   And because he is rising star and busy filming in exotic far off locations, he has decided to have his minions at Vespa Motorsport do the deed of selling his beloved Sean Wotherspoon, custom edition.  This is a really slick, low mileage example with Four Custom Marine quality air horns (guaranteed to scare the pants off any driver drifting into your lane!), custom L.E.D. fog lights, custom grips, chrome skull drink holder along with all the Sean Wotherspoon that come with this out of production limited edition Vespa.
All work performed was by our very own Jeff "Robot" Corsaro
Vespa is in pristine mint condition, and only has 879 miles on it.
AND… to the lucky new owner that buys this one-of-a-kind Vespa, Big Ed will take to lunch or dinner… ON BIG ED!  That is right!  Big Ed will treat the buyer to a day out with lunch or dinner, and Big Ed will get the check.  So call TC or Alex, and reserve this vehicle today, and maybe Ed will even put ya on an episode of 90 Day Fiancee!