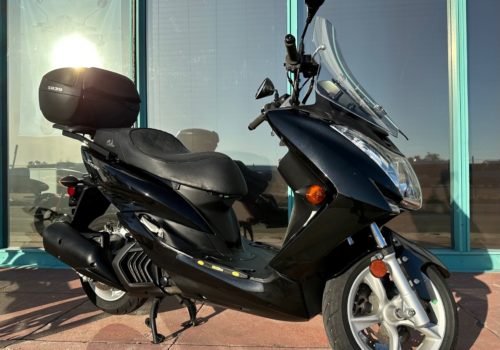 Nicely maintained Yamaha SMax 155cc Automatic Scooter.
Recent full service, fluid change out and 60 point safety check with repairs/adjustments where needed.
The Yamaha SMax elevates you to a whole new dimension in scootering. That's because the smartly styled SMAX has a 155cc four-stroke engine that's freeway legal, opening up every road in the nation for personal transit. Realistically, though, despite its fuel injection, liquid-cooling, and automatic CVT drivetrain, the SMAX's modest displacement can keep you running at 65mph all day long.
 The chassis features are likewise a rung above smaller scooters, and include 13-inch wheels, a longer wheelbase than even Yamaha's YZF-R6 (55.3 inches versus 54.1 inches, respectively), front and rear disc brakes, roomy two-passenger seating, and 32 liters of under seat storage—enough to hold your helmet or shopping bags. A large windshield is designed to control buffeting at higher speeds, and comfort can be further enhanced by adding accessory heated handgrips. And by the way, the reported fuel economy of 81 mpg beats the snot out of any car on the road.
TOP SPEED 68MPH
80 MPG
ONLY $2,995 PLUS TAX AND TRANSFER