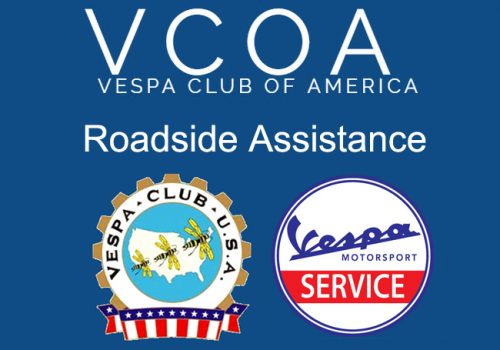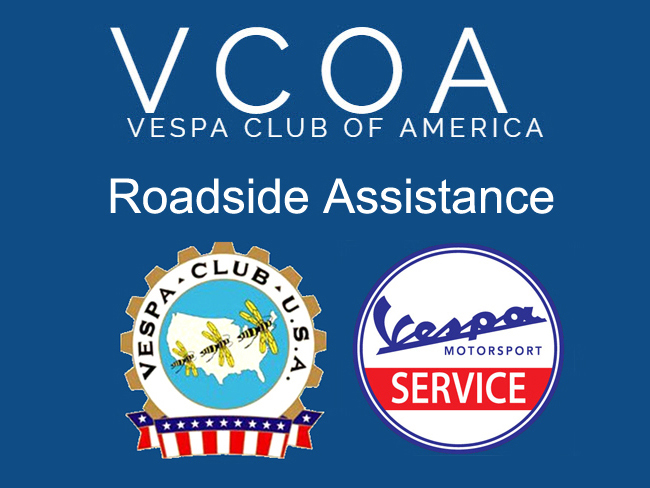 BUY A NEW VESPA OR PIAGGIO SCOOTER AND GET A ONE YEAR MEMBERSHIP TO THE VCOA
We have partnered with the Vespa Club of America to bring you Roadside Assistance!
With every NEW Vespa purchased at Vespa Motorsport we will include a FREE one year membership to the VCOA which NOW includes roadside assistance. Not only do you get to enjoy all the perks of being a member to the Vespa Club of America, you also get Peace Of Mind which is Priceless!
Only available on the purchase of a new Vespa or Piaggio Scooter at Vespa Motorsport.
VCOA Basic 25 Roadside Plan Covers:
With your VCOA membership, you receive a  24/7 roadside assistance for scootererists. Roadside Assistance Protection provides 25 miles of free towing, free flat service, battery service, and fluid service. The plan even provides for trip interruption coverage in the event of damage or an accident.
24/7 25-mile service
Membership covers up to three owned scooters
Services are provided by Nation Motor Club, LLC dba Nation Safe Drivers, In California, benefits and services are provided by Nation Motor Club, LLC, 800 Yamato Rd, Suite 100, Boca Raton, FL 33431. California Motor Club Permit Number: 5157-3. In Alabama, Alaska, Utah, and Virginia, benefits and services are provided by Nation Safe Drivers Services Inc.
Expanded coverage options are also available.  Restrictions apply, so be sure to check out the full list of terms and conditions HERE.
For further questions about the VCOA Roadside Assistance program,  please see https://vcoa.moaroadside.com/
Membership perks and roadside assistance details are available from the VCOA.
Allow at least 30 days for activation of the Roadside assistance from the VCOA.