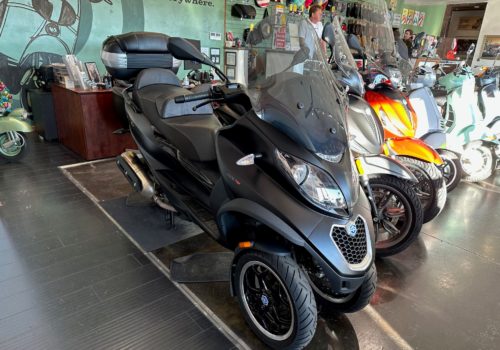 2016 MP3 500 – GORGEOUS CONDITION, OPTIONAL REAR TOPCASE, FULLY SERVICED AND DRIVES AND LOOKS LIKE NEW!
18,000 Miles $7,495.00
NO STAND OR MOTORCYCLE LICENSE REQUIRED!
Let it ALL go, with the MP3 you can relax, you don't need a STAND or MOTORCYCLE LICENSE. With a little practice, you can flip the right-thumb button inward just as you're coming to a stop, which clamps the caliper to the ¼-of a brake-type disc which holds the MP upright. The people in the cars look at you with even greater suspicion. As soon as you twist the throttle to blast off, the lock releases and in town, most of the time, you'd never really know you had two wheels up front. (If you're rolling backwards, though, the upright lock won't release until you thumb the lever!) The lock-up mechanism even has its own ECU.
Its 493cc liquid-cooled four-valve Single is now fully ride-by-wire, and puts out a claimed 40.1 horsepower and 45.5 Nm (34 lb-ft) torque. Piaggio says that's enough to push the MP3 up to 89 mph (don't tell anybody I saw 98 indicated). Nobody will be able to complain about throttle abruptness, thanks to the CVT transmission.
Forty horsepower are plenty for a scooter; dropping the hammer when the light turns green leaves everybody in the dust and drowns out the annoying "beep" the MP makes when the thing that keeps it upright stops doing it. In spite of Peter Egan's observation that the real purpose of a trike is to allow you not to miss any bumps in the road, the MP3's 16.5-inch track means you can avoid a lot of them just like on a motorcycle. And it deals with the ones you can't avoid pretty well thanks to nearly four inches of wheel travel up front, and 4.25 inches out back, controlled by a pair of preload-adjustable shocks.
A new three-channel ABS system developed with Continental manages each wheel independently to prevent lockup. Strangely, the MP needs a lot of lever pressure to get the tires chirping, with a wooden feel TR described last week in this three-wheeler comparison. Now there's ASR, Piaggio-speak for traction control, disable-able with a dashboard button.
Front wheels are up from 12 to 13 inches, and now pack one 258mm brake disc each. There's more room for both rider and passenger now,  more accessible underseat storage, and there's a new glovebox atop the new dashboard with a USB port. The front's been given a facelift and an LED running light, the rear end is completely redesigned.
Around town, surprisingly, you can still lane-split through gaps about as easily as the average sport-touring bike, which is a must-have for us California riders – the bike is narrower than the handlebars. Speaking of California, we were hoping for some el Nino to kick in so we could try the MP3 in the rain; it's real reason for being is so that you'll never lose the front end again in a low-traction situation.
What we found instead of water was a beach parking lot full of sand; you actually can get going 10 or 15 mph and throw the MP3 on its side in a way that would have you instantly down on a two-wheeled scooter; it countersteers just like a motorcycle. The MP just does a few side-shuffles  and carries on, no problem. When one front wheel's losing traction, maybe the other one isn't. And when both are losing grip, the simple triangulation of the thing keeps you up until you cease doing the stupid thing you're doing.
| | |
| --- | --- |
| Type | 492.7cc, Single-cylinder 4-stroke, 4-valve |
| Fuel System | EFI |
| Ignition | Electronic |
| Valve Train | 4 valves per cyl. |
| Horsepower (claimed) | 40.1 hp |
| Torque (claimed) | 33.5 lb-ft |
| Transmission | CVT |
| Front Suspension | Articulated quadrilateral consisting of four aluminum arms sustaining two steering tubes, and leading arm suspension geometry with offset wheel axle. Electro-hydraulic suspension locking system. 3.7 in. travel |
| Rear Suspension | Two dual effect hydraulic shock absorbers, preload adjustable to four positions. 4.3 in. travel |
| Front Brake | Stainless steel double disc, 258 mm |
| Rear Brake | Stainless steel disc, 280 mm |
| Front Tire | 110/70-13 |
| Rear Tire | 140/70-14 |
| Wheelbase | 61.0 in. |
| Seat Height | 30.9 in. |
| Dry Weight (Claimed) | 577 lb. |
| Fuel Capacity | 3.2 gal. |
| Tested Fuel Economy | 52 mpg |