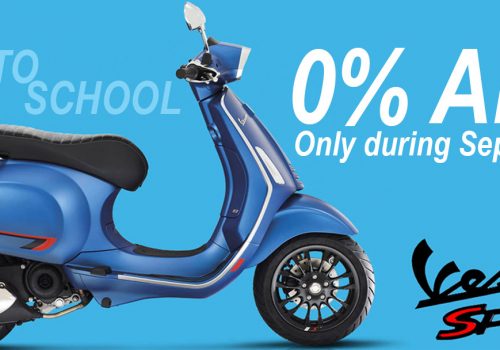 Buy any YEAR model Vespa Sprint and get 0% APR oac*
Everyone remembers going back to school with all their fresh gear and starting the new school year off right. This was the inspiration for the "Back to School" promotion.
It's the perfect time to revamp your style and make a statement. Take advantage of financing offers starting at 0% for 36 months (on the Vespa Sprint only) or 3.99% for 60 months(2) on select model year 2018-2019. This promotion is good for the month of September only.
You can apply online and come in all ready to go. Click here for Sheffield Financial 
Reduced Rate Financing on these models:
Model Year 2018-2020 Sprint Only:
-0% APR for 36 months(4)
Also available: 
Model Year 2018 or 2019:
-1.99% APR for 36 months(1)
-3.99% APR for 60 months(2)
Model Year 2020:
-5.99% APR for 36 months(3)