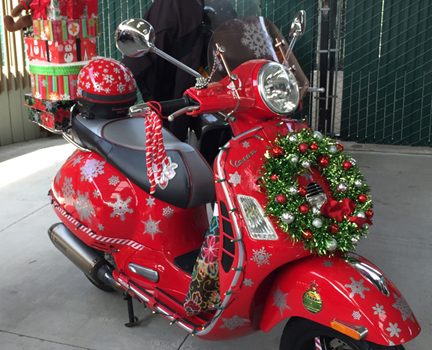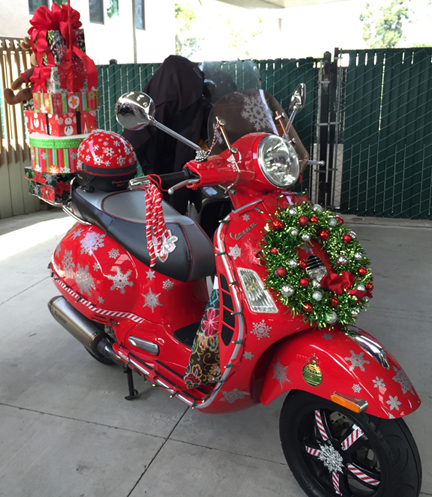 Meet at 8:30 am Sunday December 8th at Vespa Motorsport
Vespa Motorsport along with the Vespa Club of San Diego will be hosting our 12th Annual Scooter Toy Run on Sunday, December 8th.  We'll meet at Vespa Motorsport at 8:30 am for WAFFLES and RAFFLE then scoot in one massive group to the San Diego Center for Children for their Wacky Wonky Wonderland.  This feel-good event has been gaining momentum each and every year and The Center for Children is really making it extra special this year by adding more Live Music, Photo Booths, and Holiday Crafting activities.
To participate, please bring at least one unwrapped toy, see the center's wish list for gift suggestions and approved toys. Vespa Motorsport will also have an official San Diego Center for Children Donation Station set-up at our shop for anyone who may like to bring by some toys to drop off beforehand. Please stop by anytime between now and December 8th.
Keeping with the traditional itinerary, Perry and the San Diego Scooter Squadron will be serving up his world-famous waffles and other breakfast goodies.  The suggested donation for all the waffles you can eat is $5.  Perry donates his time and culinary prowess, Vespa Motorsport buys the supplies, and the Center gets ALL the proceeds!
After everyone is done scarfing down their waffles we will have the RAFFLE! One free ticket for each toy you bring; additional tickets will also be available for $1 donation.  ALL proceeds go to the Center.
Lots of awesome prizes donated by our favorite vendors: Torc Helmets, Western Powersports, Scorpion Helmets, Parts Unlimited, Brian Jones, Kriega, and more.. 
Must be present to win.
The ride will leave right after the raffle and arrive at the Center around 11:30 am.  Rain or Shine; we'll be enjoying a ride through "America's Finest Scootering City."
Founded in 1887, the San Diego Center for Children is the oldest non-profit organization in the city.  It's a live-in treatment center for children, ages 6-18, that provides educational services, support, and guidance for these less than fortunate youths.  The gifts we deliver and time we spend at the center bring an immeasurable amount of joy to these kids. For more info on the Center click here.
Center's Gift Wish list
The following is a list of appropriate gifts that have been suggested by the staff of the Center for Children. Remember, there are boys and girls age 6-18 at the center. These can be dropped off at the shop anytime before December 8th or bring them to center.
Thank you so much for caring about the children and helping to make this a great day for all who participate!
Sports equipment – regulation size footballs, basketballs, soccer balls, and nerf balls (but not nerf guns), and large rubber balls, etc.
Skateboards, knee pads and helmets, etc.
Razor scooters
Legos – (Star Wars, trucks, dragons, buses, planes, cars, Harry Potter -Hogwarts, etc.)
Kids walkie talkie sets
Jewelry-making kits
Arts and crafts kits
Art supply kits for kids and teens
Remote control cars and miniature drones
Child/teen guitars and guitar picks
IPod/IPod Shuffle
Board games (Chutes and Ladders, Sorry, Operation, Pictionary, Candyland, Life, etc.)
Target and Walmart gift cards in the $10, $15, or $25 amount
Action Figures, Dolls, Plush toys, etc.
Toy cars (Hot Wheels)
NO toy guns, please!
Itinerary
What: 12th Annual Scooter Toy Run; Deliver (via group scooter ride) unwrapped gifts to children in need.
When: Sunday, December 8th 2019.  Breakfast @ 8:30 AM ($5 donation).  HUGE raffle at Vespa Motorsport (3955 Pacific Hwy). Ride will leave right after the raffle (10:30 am Rain or Shine).  Arrive at San Diego Center for the Children (3002 Armstrong St.) around 11:30 am.
If for some reason you can't make the ride, please feel free to join us at the center, they have lots of fun and games going on. Bring your kids and some toys!