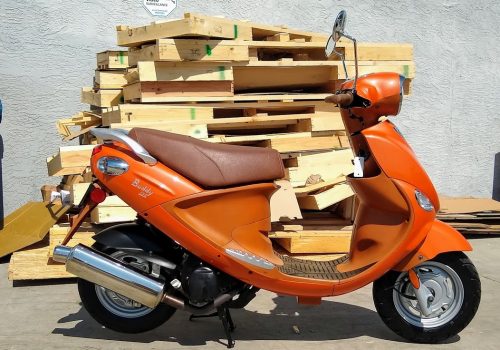 Pretty much a 2007 time capsule.  This scoot originally belonged to the wife of famed Librarian Master, Eddie Arizona.  Eddie and his wife moved on some years ago, and Eddie's wife sold us this scoot a few years back.  We sold it to a gal that put all of less than 100 miles on it, and she just sold it back to us.  So, the miles are just barely past the break in period.  But the uber cool part about this scoot is that it has the 161cc upgrade piston and cylinder kit, along with the unobtanium PRIMA Stainless Steel big bore muffler!  So this little scoot not only runs like a bat outta hell, but sounds beefy without being obnoxious.  This was also a "one year only" color.
So get in here and check this Bad Boy/Girl out.  Priced at only $1,995.00, you could not buy and build this scoot for twice that!
See TC or Alex for details.
CLICK ON EACH INDIVIDUAL IMAGE FOR A LARGE HIGH RES PHOTO